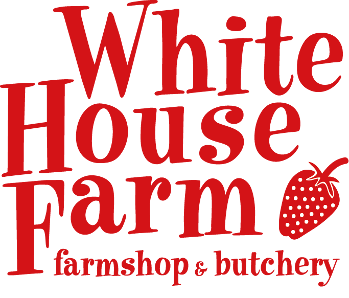 We are OPEN Tues to Saturday 9-4pm, now stocking Dollies' pastries. They are sensational!



Life continues to develop at White House Farm, on the outskirts of Norwich, as Charlotte Gurney tells us about their first Plant Fair
IT'S ALWAYS EXCITING when we do things for the first time and this month is no exception as we look to hold our first ever Plant Fair on May 13 (9.30am-3pm) in our courtyard at the farm. It makes for an excellent day out, as we host many of Norfolk's well known nurseries for the day. We'll have herbs, potting plants and all sorts of advice for your garden from our knowledgeable stalls. It's your chance to come and meet the professionals, park for free and load up your boot with some glorious smells of summer.

We're also delighted to announce that we'll be joined by the 'Garden Party' team from BBC Norfolk Radio when the wonderful Thordis Fridriksson will be back once again with her microphone and those alarmingly bright shoes! They will be live from the Plant Fair interviewing stall holders, customers and any four legged friends that happen to be passing. Everyone is welcome.

So come and have peek, spruce up your garden ready for the BBQ season and some al fresco eating. Plus we'll have sausage tasting in the butchery, the café will be buzzing with cakes and a variety of delicious goodies, making it the place to stop for lunch.

If you haven't already seen our new shops, you must! We have a beautician, hairdresser, dance studio and gift shop, not to mention our wonderful florist, Amber's Rose. Debbie Jones will be launching her 'British Flowers Fresh from the Field'. Bringing the outdoors in, she will be growing a selection of cutting flowers perfect for weddings or natural bouquets for the home and workplace. She also holds regular workshops including the Spring Bouquet Workshop - a beginners' guide on flowers, their care, preparation and display. She will cover topics from vase preparation to flower food and stem types before helping you make your own hand tied bouquet complete. Contact [email protected] for details.






Charlotte Gurney is more than a little excited about the first ever brown tourism sign pointing in the direction of her farm
IT IS WITH GREAT EXCITEMENT that this month, I share with you, Feast readers, the erecting of our first ever brown tourism sign.
After months of communication with various authorities, Broadland District Council now recognise our business as an official destination for day trippers and customers alike.
Although access from Blue Boar Lane will only remain until June, clear signage will now lead the way from the main road down to the farm.
In the four years of being a farmer's wife and putting our energy behind the ever growing business, I have come to respect signs of all sorts.
It seems you can advertise where you like - print, radio, online - but what people really like is a good old fashioned sign telling them where they can have their next cuppa!
You'll note that I've taken this to heart and at White House Farm we sport many a sign from the moment you turn in, from 'beware of the goose' to a parking sign for 'golden oldies' and even some Norfolk speak 'keep-a-troshin' to give encouragement on the long drive.
It may seem a little bonkers to some of our first time visitors but it certainly adds character to a special place, not to mention getting people talking.
I'd be a rich lady if I had a pound for every customer who has arrived at the counter smiling, 'we loved the signs coming down the drive, particularly the 'don't despair, you're nearly there' one, just when we wondered where we were going'!
So next time you pass Blue Boar Lane on some miserable supermarket trip, give our new signs a go; come and seek us out. I promise it will be worth it!




Here we are filming with Mustard TV before Christmas as we talk about where our winter veg comes from.



It's all go at Charlotte Gurney's family farm this month as eight new businesses open their doors
AS THE FARMER'S WIFE, if you'd had said to me a few years back, when we sold our first slices of less than perfect Victoria sponge in a ropey hut amongst the strawberries, that in 2017 we'd be adding eight new businesses to the recently created café, farmshop and butchery at White House Farm, I would have laughed and thought it not possible.
But here we are in a new year, opening our doors to a range of independent businesses: hairdresser, beautician, gift shop, florist, dance studio and, fingers crossed, a pre school nursery. It's our biggest leap yet and we are so excited to welcome new faces to the farm and expand the WHF family.
We hope these businesses will strengthen our already superbly convenient location on the edge of Norwich, enabling our existing café and farmshop to thrive. For me, the glue that holds all this together and makes diversifying the business so rewarding is the people. Each and every person involved in the project, from the creators to carpenters to sign writers to the BBC Norfolk Radio DJs for showcasing the farm on air and to our customers cheering us on as we tread into the unknown, they have all formed part of a great project. We are proud to have forged these relationships and are looking forward opening the WHF Mecca this month.
So come and have a gander and see all the developments for yourself and welcome all these newcomers. Have a coffee in the café and ponder what you'll achieve in 2017; it might be more than you think!






Charlotte Gurney is excited that December is finally upon us, as it, gives the butcher at White House Farm a chance to shine!
THAT GREAT MONTH is finally here and it is the count down to the sumptuous, chaotic meal that takes over December, with its hours of planning, shopping and discussion, only to be over in a flash for my favourite moment - the left overs! At White House Farm we hope to be able to cater for your every need. It may only be our second ever year selling turkeys, but fortunately we have one important man who has spent many a year prepping to ensure hundreds of Norfolk families have a truly magnificent feast on December 25, and some of you discerning customers know him well:
Stevie Wonder (aka Steve Taylor). He's had a long career on the high street and in farm shops, most recently Groveland Farm Shop so knows his turkey crown from his breast roll. This year we have our traditional woodland reared turkeys from Great Grove Poultry, a local family who have been rearing turkeys on their farm in Norfolk for a very long time. We have gammon, guinea fowls, geese and even pheasant if turkey isn't your thing or if there's more than one special meal this Christmas! And we have beautiful pieces of award winning local beef and lamb off the farm. Then, for the savvy that want to do their shopping in one fell swoop, there's the meaty hamper with turkey, pork, chipolatas, pigs in blankets, streaky bacon, stuffing and - last but not least - cranberry jelly. Order before December 1 and it's yours for £55. It's Christmas in one basket. Have a word with Steve and he will talk through all your personal requirements.
For the rest of the plate we have Brussels still on the stalk and all sorts of fabulous veg from the Brett family at Aylsham, so you
can be sure of a truly local and loving Christmas put together by people who are passionate about produce and the Norfolk farming community.
Make it a great one, only at White House Farm.






Farmer's wife Charlotte Gurney talks about the growing importance of using social media to get her message across
AS WE SOAR PAST 4000 'likes' on our Facebook page this month, it not only makes me aware of our presence in the community but also the journey we're on with the power of social media at our side. The farmer and I got married three years ago and in that time we've taken the humble PYO into the 21st century by adding a café, farm shop and butchery, and hosting a monthly farmers' market incorporating many of our much valued local producers.

Last month we hosted the farm's first ever festival, run by the 'Porkstock' team for the Norfolk charity 'Nelson's Journey'. Momentum for the event was almost entirely fuelled by social media. Never again can I say 'it can't be that effective' as hundreds of cars poured into our car park with the farmer parking each one in turn – and it wasn't even a sunny day!

Since we've taken over the day to day running of the farm, we've slashed marketing budgets, relying more and more on the instant effects of the likes of Facebook, Twitter and Instagram and less on print (apart from my favourite foodie mag, of course). One visitor recently referred to our farm shop as 'instagramable', an expression I didn't even know existed. (It's ok, you can call the farmer's wife a dinosaur!)

We even ran a competition this summer asking pickers/shoppers/dreamers to send their arty photos into the farm, in exchange for a BBQ pack and so they did, giving us some wonderful shots for digital pages. After all doesn't a picture speak a thousand words? From our handset devices we can get the look and feel of a place, and practically the taste of that cake just by glancing at our screens, wherever we may be.

For me, as the storyteller, Facebook particularly has clocked our journey, celebrating each landmark: the opening of the shop, the addition of the butchery, and even the birth of our daughter.

It also enables people to give their feedback first hand - often in an instant so we can smooth out any creases or thank someone for a favourable review, or commend a member of staff. I really feel that for a business that has had to move so swiftly, from one generation to another, from plum picking to flavoured lattes, social media has been at our side, always with us, rain or shine.

So when you're next in, glance up and see our 'Flike', a start-up phenomenon from France, a live Facebook 'like' counter and watch your 'like' count!






Charlotte Gurney has big plans to make Sprowston an even nicer place to live and work in, with her new courtyard conversion down on the farm
IT'S HARD TO actually believe that after, months of restoration work, our courtyard conversion is finally starting to take shape.
We've been busy transforming the derelict stables on the edge of the city into retail units and a stunning office space, much like we did with the farm shop a few years back. It feels like the culmination of endless planning, energy and vision on behalf of quite a few people, not to mention convincing decision makers along the way of the project's potential. Hats off to the determined Scott and his team at Danco Building Services for reroofing and grafting through some very hot weather (possibly motivated by the odd homemade strawberry ice cream from the farm shop beneath!). Each tile has been carefully removed, dusted off and repositioned to keep the original authenticity of the farm, and all the while interest from customers has risen. With the new link road starting this month, joining the busy Wroxham Road with the Salhouse Road with a special roundabout just for White House Farm, you can see why. Before long we will have a mere 1200 new homes on our doorstep, making White House Farm the perfect destination to walk and cycle to – it will be a handy commute for the lucky some. Plus, when the Northern Distributor Road is completed, it won't be far from the farm, firmly establishing the site as a destination for all to enjoy, with free parking and beautiful surroundings.

We're hoping to have a real variety to offer our customers, all under one roof: from hairdressers to bakeries to florists to wine merchants to gift shops and anything in between. We still have a few units left with the completion date set for Christmas 2016, which seems just around the corner. So if you, or anyone you know of, is looking for space, set amongst the leafy oasis that is White House Farm with the existing café, farm shop and butchery next door, please do get in touch. Help us make Sprowston an even nicer place to live and work.






Charlotte Gurney takes to the mic when BBC Radio Norfolk came and set up their equipment between the raspberry canes, recently

LAST MONTH we had a surprise visit from BBC Radio Norfolk who came to White House Farm to hold their midweek show live from the raspberry canes, interviewing the full team, from the farmer to Anya, the resident baker.

We talked all things juicy; strawberries, Brexit and what the customers really think good value is! As you can imagine, this caused much nervous excitement as the team polished the shop and café, smoothed the creases out of their red aprons and honed their radio voices! Thordis, Edd and Anna mapped the farm, tested their radio car for signal in the various strawberry fields and raced around in between a few farming related tunes, capturing the colour and vibrancy of the farm. They asked about growing techniques, interviewed Tom, the fruit apprentice and shared the art of butchery live from the butcher's counter. There were even a few impromptu shrieks and frantic cable cleaning as mincemeat and BBC equipment got entangled during the sausage making demo! They really brought the farm to the airwaves in the most remarkable and engaging way, no script, just informal chatter with employees and customers alike that gave listeners a true feel of character of the place.

I was enormously proud of the staff as they spoke quite naturally of their individual and varied roles, all of which keep the WHF ship sailing. One customer interviewed has been coming to the farm for 30 years and has watched us through all our changes. It was wonderful hearing first hand how valued White House Farm shop and Butchery is amongst the community and how the farm diversification is appreciated – we all know change takes a bit of getting used to.

In essence, I was in awe of the professional, BBC trio as they came into our business, analysed it, portrayed it an honest, creative light and then vanished like wizards into smoke. There was nowhere to hide, no chance for a retake and the team coped admirably given it was no normal day at the office. It also reminded me just how brilliant the BBC are for getting out there into local, independent businesses and highlighting how hard us Norfolk folk work to make it a jolly nice place to live. If you get the chance, listen again on the BBC iPlayer and enjoy the show until August 10!






If I had to pick a month, I'd say it was July; the month for soft fruit when all the hard earned farmer's work over the winter months comes into fruition. Before the pickers arrive, in cool mornings, I'll walk the rows of raspberries, currants and table top strawberries contemplating the day ahead, my ear tuned into my favourite White House Farm bird, the yellow hammer. As one wise, silver-haired customer, who has been picking and jam making with us for years, pointed out, if you listen carefully, he enthusiastically sings to the tune of, a ''Little bit of bread and no cheese!' It makes me smile every time.
I consider myself incredibly lucky to be joining the family business in Sprowston on the edge of the ever expanding city, but it does come with its challenges. Revolutionising an established business and moving with the trends is no easy feat. Since the 70s when the business was at its prime, a whole heap of socioeconomic changes have occurred, impacting us in different ways.
For example, we're no longer governed by our chest freezer: we have supermarkets with every fruit you can think of at our disposal year round.
PYO is no longer a necessity but a family day out. Plus the price of labour is vastly greater than it was 30 years ago.
So, in order to survive, we've had to change accordingly. We've added our café, farmshop and most recently a thriving butchery, but we've needed
to think creatively where fruit picking is concerned. We note the tremendous footfall each summer yet find ourselves disheartened by the small amount of fruit picked by customers. So this year, we've taken others' lead and introduced an entry free, a minimum spend (to be deducted from fruit picked) to balance the hungry mouths that pass through.
Like all things on the farm, it's an experiment and I hope it will deter the time wasters but reassure the core, trusted pickers that we are trying to ensure the PYO experience does not become a thing of the past. After all, you can't beat it: sunny days, juicy, fresh berries that taste like no other, a spot of jam making - and my friend the 'cheese bird' singing in your ear!




This month Charlotte Gurney of White House Farm tells us why she is shopping locally for her milk I recently had a tour of Nortons' Dairy in Frettenham, near Norwich, which is a family farm whose milk, cream and soft cheese we sell in our shop. We admired their robotic milking system that revolutionised the farm a few years ago, and marvelled at the cows as they queued; Marigold barging against Rosalina Jurist in the wait for their twice daily milking session.
And as Teresa Norton talked heartwarmingly about the business, the suffocating presence of the supermarkets, her way of life naming each calf at birth and the prospects for a herd of 60 cows in 2016, my mind raced as I winced at the 40 plus litres our coffee machine consumes each week at an embarrassing 89p a pop. Those litres come from cows with no name, miles away, bottled days ago and are almost certainly not grazing on sunny fields of grass minutes from our farm shop.
As the car steamed on the way home and the rain persisted, I computed the milk related headlines we see all the time and the harsh reality of what I'd just been privy to. Everyone, in my opinion, young and old, should go and see their local dairy and absorb dairy farming first hand before it's too late.
But that's just the thing; small dairies like Nortons' can be counted on one hand - will my daughter be able to show her daughter this timeless way of life in 2050?
You can imagine how my ears pricked up when I heard the prestigious BBC Food and Farming Awards announce the winner of their "Future Food" category last month: a small dairy outside Sheffield called "Our Cow Molly". They had decided that rather than campaigning outside 10 Downing Street about the miserable price of milk, they'd capitalise on their unique, fresh milk. A cow can be milked at 6am and its milk can be in a latté a few hours later at Sheffield University, three miles away. That's called sustainable farming!
Inspired by these events, for an extra 5p a cup, we now bring you Nortons' milk in your coffee, the freshest milk in the city, and your clearest conscience yet in the knowledge that your hard earned pennies go back to the local economy, supporting a way a life that Norfolk should not lose. Not only that, we'll make sure the cream in Anya's epic Victoria sponge comes from the dairy, too. Going forward, I hope Sheffield's milky movement might catch on here in the eastern region and that the rain clears for the dairy farmers that shape our county.
After all, we're no farm shop if we don't put our money where our mouth is.




Charlotte Gurney of White House Farm in Norwich tells us about the thriving family business and why it pays to be bold!
May - it's a very special time of year; we can finally stow away those woollies and release our floral numbers from the wardrobe in the knowledge that our summer hols are finally in sight.
Down on the farm, the hens are laying in abundance, the goose watches over her nest like a guardsman outside Buckingham Palace and the blossom fills our fruit trees. Plus it's an extra special month as it marks one full year since the addition of our butchery, as we emerge intact from our first winter.
It's no mean feat starting a butchery (when you've sold fruit for 50 years), there were a million hurdles to jump: converting the old blacksmith's shed, researching eco refrigeration systems, getting the right kit, meeting suppliers, being honest to your customers, oh, and finding a butcher who's willing to take the gamble that customers will buy something other than strawberries! If you've ever started a business, you'll know that daunting feeling as you step into the dark.
And so the story goes on, you can have all the tactics, marketing, and determination you like, but if you haven't got the right people on the pitch, you aren't going to score! So it was with some great fortune and (a little relief) that we met Steve Taylor when we did. From day one, he wasn't fazed, he rolled up his sleeves and got stuck in. He's worked in many a farm shop and high street butchery, starting life as a Saturday boy, and some from scratch, so this was merely another challenge. It seemed customers were only too delighted to try his sausages, stick a few kebabs on the BBQ and graze on strawbs for pud.
As the family pizza nights came to a close and the wintery months of 2015 approached, the farmer and I got nervous. But what we needed was a tablespoon of faith; a busy Christmas awaited us, as we proudly sold turkeys from the lovely family business, Groveland Poultry, woodland reared and delicious, too.
So, to celebrate reaching this milestone, we invite you to visit us. Because if you've been brave enough to venture down our drive, then why not take a seat in our sunny café and take a moment to share our journey with us!



Proudly telling our story in the NEW Feast Norfolk magazine...good Sunday morning reading and available in the shop White House Farm, Norwich.


I still find it hard to believe that minutes from Norwich city centre my husband, Oliver and I have the dream life at our idyllic gem that is White House Farm. What started life fifty years ago as a PYO has been our canvas to grow and build in to a destination. Talk about out of the frying pan and into the fire; Oliver's former life was as a Royal Marine tackling Somalian pirates in the Gulf and I worked for the small tech business that makes iPhones! Hardly the grounding one might need to take the drafty shed that sold fruit for a few months a year to the farmshop, café and now butchery that you see today in our beautiful Norfolk red brick cart shed. It's been a roller coaster of a ride, and hard graft as we've expanded the business using every ounce of imagination, as we turn redundant doors into café tables, and old apple boxes into shelving to house our fantastic array of local products, most of whom showcase their delicacies at our monthly farmers' markets.

The butchery seemed the obvious next step, and an ideal way to complement the fruit by enabling us to open all year round. Given we knew nothing about meat/butchery, it wasn't without some wonderful local people that the whole idea got off the ground. In true community spirit and by good fortune Archers donated their refurbished counter to us, Andrew Clarke at Blake's abattoir enabled us to meet our local suppliers to ensure our meat comes from the closest farms possible and the best farms. It made me proud to have our first beef from an NR7 postcode, and to be able to tell customers how honest the process is, something the giant supermarket next to us struggles to convey. We recruited our butcher, known fondly as 'Stevie Wonder'; he has a wealth of experience both on the highstreet and in farmshops and has taken the business from strength to strength and to our delight is creating quite a following.

As you can imagine it was with great pride that we went to collect our FARMA award this month as winner of the 'Best Newcomer Farmshop'. To be recognised on a national level was truly exciting, and we got to meet the great Will Chase behind the success story that is Tyrells crisps.

We have great plans for the future and the venture doesn't stop here; we have a conversion of barns in the process so we can house other great local artisan and lifestyle businesses and a play barn for all those little monsters who need to let off steam.



In the press again...